Orunodoi
'Orunodoi' or Arunodoi Scheme is a new scheme of the Government of Assam is launched on 2nd October 2020. Under 'Orunodoi', monetary  benefits has been envisaged for more than 24 lac poor household in the state. The schematic benefit has been enhanced from 830/- to Rs. 1000/ Women. They will receive the amount on the first day of every month, starting from October 2020. Women being the primary caretakers of the family are kept as beneficiaries of the scheme. 'Orunodoi' scheme will provide Financial Assistance of Rs. 1000 per month through Direct Benefit Transfer (DBT) scheme to around 19.10 Lakh Families in the state. 
"It is an ambitious and momentous step towards socio-economic empowerment. Assam's 19.10 lakhs families to get Rs. 1000 PM in their bank accounts."
The District Level Monitoring Committee may devise modalities for preparing the list of eligible beneficiaries strictly as per the Guidelines. The preliminary selection of the beneficiaries will be done at the level of Gaon Panchayat(GP) Village Council Development Committee (VCDC)Urban Local Body (ULB) based on eligibility/ineligibility conditions.
An undertaking cum checklist of the eligibility/ineligibility conditions has been prepared for use at GP / VCDC / ULB level which is attached at Annexure 'A'. Only one such undertaking cum checklist should be prepared against each proposed beneficiary household.
Selection List Under Orunodoi Scheme 2020
The selection list for the Arunodoi Scheme 2020 will be released by the Government of Assam from 17th August 2020. And the applicants who got selected under the Arunodoi Scheme 2020 will receive funds through the Direct Benefit Transfer (DBT) mode to the bank account of the nominated woman of the family.
Scope of the Scheme:
Government of Assam will provide monthly financial assistance to the eligible beneficiaries for procuring medicines, pulses, and sugar wherein Rs 400 per family per month is to be given to each beneficiary family for procuring medicines for taking care of their health needs, Rs 200 per family per month to provide for 50%   subsidy for the 4 Kgs of pulses a family consumes in a month and Rs 80 per month per family which will effectively subsidize 50% of the monthly expenditure they will spend on the 4 Kgs of sugar that they will purchase for the house every month. Separately, Rs 150 per family per month would be provided for the purchase of essential fruits and vegetables over and beyond what they grow in their homestead farms. The medical and nutritional support will have a consolidated inflow of Rs 830 per month to a family.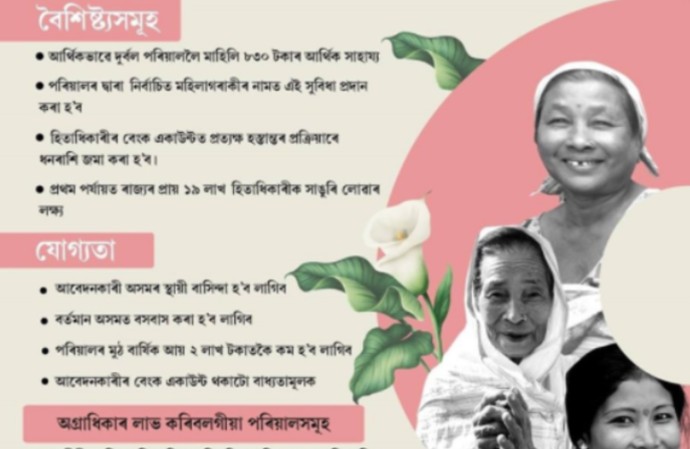 The Assam Orunodoi Scheme 2020 Application Form is released.